Whether you call it the Mecca of hardware or the Silicon Valley of Asia, Shenzhen is the place to be for any entrepreneur building hardware.
With all its merits, the Chinese city is still notoriously difficult to navigate for those unfamiliar with the place and culture. It's not uncommon to hear about entrepreneurs falling prey to hustlers and scammers, or spending more than necessary on their prototype.
This guide could help any new startups keen to get into the scene, but not get eaten up by the city.
The city was once covered with sleepy paddy fields and home to 300,000 people. It was promoted to a city in 1979 and later designated as one of China's first Special Economic Zones in 1980. It has grown into a sprawling electronics manufacturing hub and home to over seven million people.
Because of its status as a Special Economic Zone, foreign investment has flooded the city. Now, it is home to several high-tech companies like Tencent, Coolpad, DJI, OnePlus, and Huawei. As of 2015, Shenzhen's GDP reached US$270 billion. Nanshan, one of the six districts comprising Shenzhen, is the richest in China with a 2014 GDP per capita of US$49,000, overtaking its neighbor Hong Kong.
Shenzhen is home to the Shenzhen Stock Exchange (SZSE), one of China's three stock exchanges. It is the eighth largest stock exchange in the world and the fourth largest stock exchange in Asia.
Places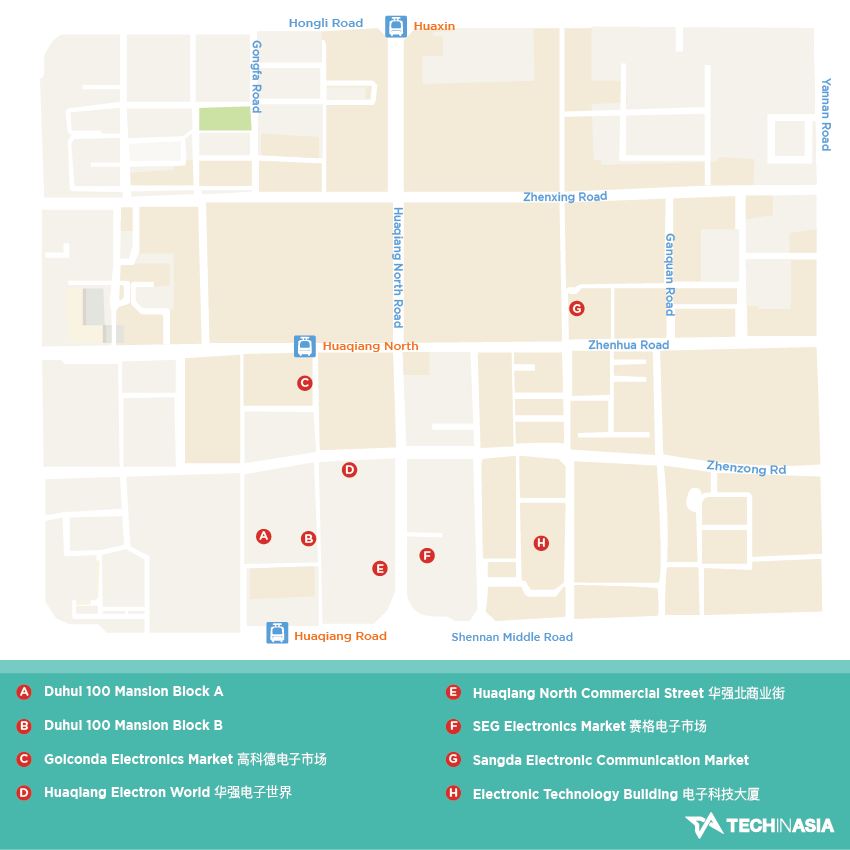 The obvious location for hardware makers to visit is the Huaqiangbei district. Located in the subdistrict of Futian, it is a shopping area that's a great start for anyone new to hardware. It's easy to head to any of the major markets, like Huaqiangbei Commercial Street and SEG building and dig through the rows and rows of electronics stores.
But don't limit yourself to the Huaqiangbei area. According to Lee Kwai Seng, the managing director of IoT-focused accelerator AIRmaker, the unique and diverse requirements of IoT startups can be better served from the cities along the Pearl River Delta, which includes Dongguan, Foshan, and its surrounding areas outside Guangzhou.
Work with experienced makers
One of the best ways to get through an unfamiliar place is to have a guide. When Roger Chang, founder of SwarmX and ex-CEO of Pirate3D, began his prototyping work, he had the help of a Chinese engineer and project manager from Shenzhen that he trusts, which makes a world of a difference.
There are also several incubators and communities that support startups looking to tackle Shenzhen, like HAX, which Dema Tio, founder of Vibease, was a part of, and Seeed Studio, where an active community of makers gather to share tips and ideas.
For IoT hardware folks, AIRmaker is launching its inaugural accelerator program, which supports startups related to Singapore's Digital Health and Smart Nation initiatives from developing a business model to navigating Shenzhen's manufacturing supply chain. The three-month program also comes with US$25,600 in exchange for 7 percent of equity, and incubation in Singapore (BASH) and Shenzhen (GS Park).
Prototyping
Prototyping can be pricey — unless you're in Shenzhen. Thanks to the low labour and material costs, this city could be the best place for hardware startups to begin. When Dema started prototyping in 2011, printed circuit boards (PCB) in Singapore took three weeks for each revision and cost at least US$297. When he moved his prototyping efforts to Shenzhen, a PCB was priced at a mere US$7.43, and any changes he needed to make would take one to two days.
Make use of online resources
Don't overlook online resources when shopping for components. Shopping around marketplaces may be fun, but it is extremely time-consuming. Roger recommends Alibaba as a useful source of affordable components. Dema suggests HQPCB.com as a cheap and affordable way to get PCBs.
Is your product realistic?
Before you assemble the product, make sure the design is realistic. Roger suggests "channeling your inner MacGyver," by hacking together all sorts of household items to build a proof-of-concept.
Once you're confident that the product design is realistic, you can start investing money into building the prototype, like in computer-aided designs (CAD), 3D printing, or PCB assembly.
Manufacturing
Looking for reliable people to work with in an unfamiliar place can be intimidating, especially when you're trusting them with a process as intensive as manufacturing. This is no less true in China, where stories of scams and fakes shroud the country's reputation.
Be sure to do your research and get to know every detail, from the process of building the products to the people working on them. Accelerators like the AIRmaker program can also help by introducing startups to manufacturing partners.
Work with a factory that has experience building similar products
There are many manufacturers present in Shenzhen that you could work with. Instead of casting your net wide, Dema suggests picking a factory that has experience building similar products to yours. Not only will their learning curve be less steep, but they may also be able to share their experiences and provide advice on how best to build your product.
Instead of putting all your eggs in different baskets, stick to just one factory — there will be too many moving parts and working with multiple factories may lead to factories blaming each other for mistakes. However, due to the nature of many hardware products, Lee suggests that startups look beyond just the factory making and assembling the final product and also evaluate the sources of the suppliers where appropriate.
Visit all the factories in person and meet the boss
When you begin manufacturing, it is important to visit the facilities and meet the boss in person. While it may be tempting to work through a middleman, doing so will give you less control over the product and its quality.
Meeting the boss is also crucial. Chinese culture is very relationship-driven, so being able to build one with the man in charge of manufacturing your product will save you a lot of headaches along the way.
As Dema explains, it's not just about deciding which manufacturer to work with, it's also about convincing the manufacturer that you are worth working with. After all, he will be dedicating his time and resources to helping you reach your goal, and he needs to be convinced that your company will be able to bring him business in the future.
Getting the boss on your side is another way to ensure he doesn't sell your products' plans. As long as he's convinced that you will be able to bring him constant business, your business relationship will be more worthwhile than profiting from your plans.
Bunnie Huang, the prominent hacker and mentor at HAX, shared a memorable tip with Makezine: "If you go to a factory, and you can't meet and have dinner with the boss, that factory is too big for you."
Be very specific
Kwai Seng suggests that you should take the time to be clear on specifications and expectations when working with manufacturers. While they may have experience producing similar products, the product is still yours, and it is paramount that you communicate what you look for in a product.
"Not being clear on what you're building is the biggest mistake you can make," says Roger, who is currently prototyping and building hardware in Shenzhen. "They can build almost anything you want – but it's up to you to figure out what that is."
Challenges
Manufacturing is a big process, and more so when you do it in a foreign country. Kwai Seng suggests that you prepare yourself for issues to come up, whether from cultural differences, different perspectives on deliverables, or quality issues.
"You will not be able to anticipate all the issues that will pop up, work through them one at a time," says Kwai Seng. "At the same time, not every manufacturer is out to take advantage of you or copy your product."
Keep an eye out for hustlers
When Dema was visiting factories to produce the first batch of Vibease's products, he would notice stark differences between people that own the company and those who don't. For one, employees would often grow quiet in the presence of the actual owner of the business, and he would have access to an office with a big table and chair. Fake bosses, who could either be employees of the factories or a man off the street, would struggle to figure out light switches or get lost in a facility, and would be ignored by most of the staff.
Hustlers are everywhere, but they're usually sloppy and easy to notice. Don't give your plans and your money to the wrong person.
Trademark your products in China
When working in Shenzhen, always assume people will get access to your plans no matter what. To protect yourself, be sure to register a trademark for your brand and designs even before you launch. Even if you're not planning to launch the product in China, it is better to be safe than sorry. It's not uncommon for people to attempt to buy the rights for your product, as it gives them legal rights to sue your manufacturers and prevent you from producing the products. Buying the trademark back would cost you a significant amount that bootstrapping startups won't be able to afford.
The day after Vibease launched their Indiegogo campaign, there were three different attempts to trademark the Vibease brand in China. Luckily, Vibease already did the legal work necessary to prevent that.
About Airmaker
Airmaker is an IoT-focused cross-border accelerator for startups in Singapore's Digital Health and Smart Nation space. Leveraging the strong partnership of Ascendas-Singbridge, Infocomm Investments, and Runyang Group, Airmaker takes startups from business validation, product sourcing, manufacturing, to distribution and expansion across Asia.
The program connects two of Asia's vibrant innovation ecosystem – Singapore and Shenzhen – featuring a Discovery Phase in Singapore followed by a Build Phase in Shenzhen from early September to early December. Application is now open until August 17.